If you recall my previous post about this vacation, I mentioned that I still had to find accomodations once I got to Boracay. Although I could have made reservations in advance, I decided to try my luck and look for a place to stay once I got to the island hoping that I could find a better deal than on the internet and save money.
The '
White Beach
' is a 4km stretch of white sand on the western side of the island. There are 3 designated 'stations' along this beach where the pump boats drop off their passengers.
Station 3 is located on the south end of White Beach and is nearest the town of Caticlan. Station 2 is located almost at the middle, while Station 1 is on the northern end. In that same order (generally speaking but not the rule) is from budget accomodations to exclusive resorts and restaurants; from more people to less people; and from good beach-front to best beach front.
The island is only about 2km wide and it has 1 main road which forms an acute angle with White Beach, the narrow end being on the north side. I was determined to
find accomodations near Station 1
since it was nearer the main road and the better part of the beach and had less people (even thought it was not peak season). I know you're waiting to see more of the beach too but I was exhausted from travelling and preoccupied with finding a place to put my things that all I know was
it was a sunny day
when I arrived.
View of the Northern End of White Beach from Station 1
I got off the pump boat at station 1 and was already dreading the fact the I might have to walk about 2km (to Station 3) before I could find an affordable place to stay. After walking just a few feet from station 1, I came across a resort that offered individual cottages. They offered
air-cooled cottages for P600/night
and airconditioned ones for P1,500/night. Unfortunately the air-cooled (which was what I could afford) had thin mattresses on the beds and plain white bedsheets -
it looked like a hospital charity ward
.
Then a few more feet away I came to the
Sunshine Place
.
It looked... well, it looked as if in the range of P1500/night but I inquired just the same. Guess what! Since I was staying for 4 nights and it wasn't peak season, the owner offered to give me a discount for a rate of just

P800/night!

I tried not to show my delight but took her on her offer immediately! … airconditioned, nice beds, nice sheets, a balcony, cable TV, a shower, beach front, and

best of all a great mirror!

- which made me look

as if I had gained 10kgs hahaha!
Throughout my stay I spent everyday walking along the beach under the sun and always looked forward to returning to this room for relaxation!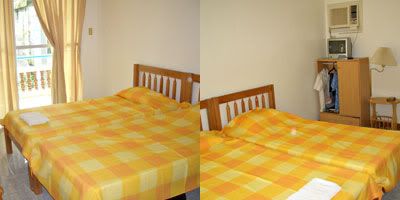 Sunshine Palace
Boat Station 1 Boracay, Philippines
(036) 288-3221; (63919) 806-0799
Erlinda Sacapaño (owner)