At around lunch time, we headed back to the White Beach. Since it was the monsoon season in the Philippines, we got caught in a sudden downpour on the way back. Everyone on the boat was soaked and shivering - part of the fun! Its a good think I brough some plastic containers since I had the following with me: mobile phone, digital camera, binoculars, sunglasses, and some cash. If you ever get to visit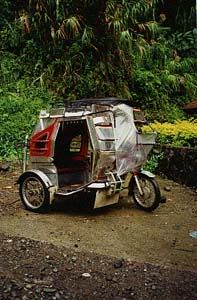 Boracay, don't fail to take a boating trip.

I headed back to the Sunshine Place and fell asleep exhausted but happy.

The next day, I decided to visit the other parts of the island that I wasn't able to visit during the . This time I decided to travel by land. A tricycle was rented for P300 ($5.50) for 3 hours. I left the Sunshine Place at 9am. I was hoping to gather some shells, and since the main beach of Boracay was almost pure sand, the tricycle driver suggested we go to Puka Beach first since it was a well-known area to gather shells.




After 20 minutes along a bumpy road, I finally arrived at Puka Beach. It was on the opposite side of the 'White Beach' and unlike the calm seas there, the waves at Puka Beach were big and I wouldn't dare go for a swim. It maybe about a kilometer long and had very little shade - oh, I was here to get some shells but where were they?




Just then the tricycle driver volunteers that it was high tide and we should have come during the afternoon when it was low tide (now he tells me!) - he's supposed to be the local resident - *sigh* Aside from some shells and large waves, there was nothing else to do here so off to the next destination.

Next: The Butterfly Farm

Tag: beach, Boracay